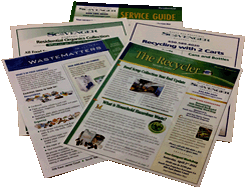 Recent Editions:
Spring 2023 Newsletter– Features information on household hazardous waste disposal, document destruction service, the On-Call Cleanup Program, and roll-off box service.
Winter 2023 Newsletter– Contains service and sorting tips, Foodware Ordinance summary, and more.
Fall 2022 Newsletter– Contains a reminder to keep organic waste out of the landfill, and multiple holiday tips/reminders.
Summer 2022 Newsletter– Contains green cart reminders, notice to "Sort Smart" and look for educational information left on your carts, and more.
Looking for an older newsletter?