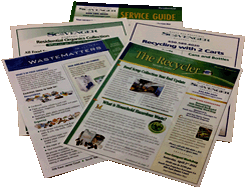 Recent Editions:
Summer 2021 Newsletter— Contains Organics Program reminders, tips for sorting smart, Coastal Cleanup announcement, and more.
Spring 2021 Newsletter— Contains tips for spring cleaning, instructions for using your On-Call Cleanups, information on household hazardous waste disposal, and more.
Winter 2021 Newsletter— Contains tips for handling ash/coal, food scraps, yard trimmings, pet waste and more. Also provides tips for keeping our community clean.
Fall 2020 Newsletter— Contains holiday service reminders, and a notice of enhancement project underway at Blue Line Transfer.
Looking for an older newsletter?