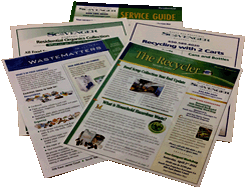 Recent Editions:
Winter 2023 Newsletter– Contains service and sorting tips, Foodware Ordinance summary, and more.
Fall 2022 Newsletter– Contains a reminder to keep organic waste out of the landfill, and multiple holiday tips/reminders.
Summer 2022 Newsletter– Contains green cart reminders, notice to "Sort Smart" and look for educational information left on your carts, and more.
Spring 2022 Newsletter– Contains tips for spring cleaning, instructions for using your On-Call Cleanups, information on household hazardous waste disposal, and more.
Looking for an older newsletter?