GOT USED MOTOR OIL
&

FILTERS?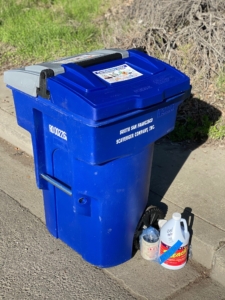 Let us take it off your hands! It's free, easy, and best of all—it's part of the regular curbside collection program for residents of single-family homes in the cities of South San Francisco, Millbrae and Brisbane. Here's how to get started:

Collect used motor oil in a clean, secure, and labeled screw-top container that is 1 gallon or smaller. You can repurpose an empty detergent or bleach bottle. You can also use the original oil container.
Contain used oil filters in a clear zip-top bag. Be sure to seal the bag.
Place used motor oil and filters next to your blue RECYCLING cart on your normal collection day.
Limit of 5 gallons of used oil and 5 filters per collection day. Oil cannot be mixed with any other substance. Contaminated oil must be taken to the San Mateo County Household Hazardous Waste Facility. Drop-off is free with an appointment for all San Mateo County residents. Schedule an appointment here or call (650) 372-6200.
Not eligible for curbside collection? Rather take your used oil and filters to a free drop-off location? San Mateo County residents are encouraged to deliver their oil and filters to a nearby collection center.
Call the drop-off location prior to bringing your used oil and filter to verify hours and limitations.
Collect used oil in a clean, non-breakable plastic container that has a screw-on cap.
Place used oil filter into a plastic bag and seal tightly.
Deliver used motor oil and filters to the collection center. Always give used motor oil and filters to a staff member.
Never abandon used oil or filters outside of the business when the shop is closed. This is illegal.
Nearby collection centers include:
Millbrae
AutoZone
320 El Camino Real
(650) 697-3504
Firestone Store
1201 El Camino Real
(650) 871-9096
O'Reilly Auto Parts #2581
1200 El Camino Real
(650) 583-0443
South San Francisco
Blueline Transfer Station
500 E. Jamie Ct.
(650) 589-4020
N.O.D. Auto Service
442 Victory Ave.
(415) 988-7557
O'Reilly Auto Parts
1059 El Camino Real
(650) 589-8102
South San Francisco (cont.)

O'Reilly Auto Parts
3541 Callan Blvd.
(650) 827-9081
Shiva Auto Repair
118 S. Spruce Ave.
(650) 225-0600