Multifamily Hazardous Waste Program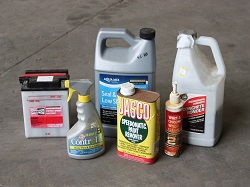 Hazardous Waste doesn't belong in your garbage or recycling collection containers. Placing it there is illegal and unsafe for our workers, our community, and the environment. Not sure if something is hazardous? If the item is flammable, toxic, explosive, poisonous, or contains mercury or heavy metals, it's hazardous.
For Hazardous Waste collected by property owners/managers and their agents:
A variety of hazardous items can be delivered to Blue Line Transfer. Alternatively, San Mateo County's Very Small Quantity Generator (VSQG) Program accepts many types of hazardous waste from those who qualify. Visit smhealth.org/vsqg to learn more.
For Household Hazardous Waste (HHW) collected by tenants:
The table below lists common hazardous items and indicates if we can collect them from your property or if they can be delivered to Blue Line Transfer. Don't see a particular item? Try searching for it in our Sort Smart Recycling Guide or see if it's accepted by the San Mateo County HHW Program.
| | | |
| --- | --- | --- |
| Item | SSF Scavenger Curbside Collection | Blue Line Transfer |
| Antifreeze | No | Yes. No added charge. 10 gallon limit |
| Car Batteries | No | Yes. No added charge. |
| Cell Phones | No | Yes. Fees apply. |
| Cleaning Fluids | No | No |
| Computer Monitors | Yes. Call (650) 589-4020 to schedule. Fees may apply. | Yes. No added charge if not cracked/broken. |
| Cooking Oil | No | Yes. Fees apply. |
| Electronic Items | Yes. Call (650) 589-4020 to schedule. Fees may apply. | Yes. Fees apply. |
| Fertilizers | No | No |
| Fluorescent Tubes/Bulbs | No | Yes. Fees apply. |
| Household Batteries | No | Yes. Fees apply. |
| Motor Oil | No | Yes. No added charge. 10 gallon limit. |
| Oil Filters | No | Yes. No added charge. Limit of 10. |
| Paint | No | Yes. No added charge. Latex & oil-based paint in original container with label. 10 gallon limit. |
| Pesticides, poisons | No | No |
| Photo Chemicals | No | No |
| Pool Chemicals | No | No |
| Pressurized Tanks (propane & helium for example) | No | Yes. Fees apply and vary depending on size and whether the tank is at atmospheric pressure. |
| Sharps | No | Yes. No charge. |
| Solvents | No | No |
| Televisions | Yes. Call (650) 589-4020 to schedule. Fees may apply. | Yes. No added charge if not cracked/broken. |
| Tires | No | Yes. Fees apply. |