Commercial Recycling/Organics Program
California Laws Require Waste Sorting

Assembly Bill 341 requires businesses that generate 4 cubic yards or more of waste per week and all multifamily residential complexes with 5 or more living units to separate recyclable materials from their garbage.
Assembly Bill 1826 requires that all businesses generating 2 cubic yards or more of waste (garbage + recycling) per week implement an organics recycling program. It also requires multifamily residential complexes with 5 or more living units to implement a recycling program for yard trimmings.
Assembly Bill 827 amends AB 1826 & AB 341 and requires the provision of "front-of-house" recycling and organic waste collection bins in all restaurants and cafeterias where patrons clear their own tables.
Senate Bill 1383 sets statewide targets to reduce disposal of organic waste in landfills and recover edible food.
We Can Help You Comply!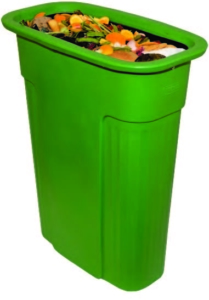 South San Francisco Scavenger offers no-charge collection of properly sorted cardboard, paper, and recyclable containers. We offer organics collection at the same charge as garbage service. An adequate level of weekly garbage service is required before recycling services can be added.
A limited number of 23-gallon food scraps collection containers are available for no charge to participants in our commercial organics program. They are great for collection food scraps and food-soiled paper in kitchens and break rooms, and must be emptied into the correct collection cart or bin.
South San Francisco Scavenger also provides a variety of educational materials to encourage participation in recycling programs. Look for printer-friendly guides, posters, labels, and more here.
Ready to Start or Improve Recycling/Organics Service?
Our outreach team can help by assessing the waste generated by your business and making suggestions for recycling services as well as waste reduction. We can also help to train your staff! Call or text us at (650) 589-4020 or use our contact form.