Blue Line Transfer, Inc. is open six days a week:
Monday to Friday 6:00 am to 4:30 pm
Saturday 8am to 4:30pm
Click here to view holiday hours.
Our certified weigh scale means no estimates are involved. You'll only pay for the exact weight of what you're disposing. Our rates vary according to material.
Basic Pricing:
Minimum charge: $33.00
Clean Wood Waste: $127.00 per ton
Clean Yard Waste: $138.00 per ton
Dirt/Rock/Concrete $127.00 per ton
Garbage: $138.00 per ton
Construction/Demolition Material: $160.00 per ton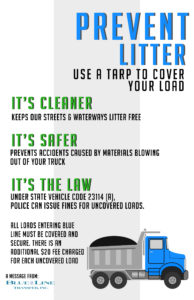 PLEASE NOTE:
All loads entering our facility must be covered and secured (tarped and tied down). Any loads that arrive unsecured will be subjected to a $20 additional fee. No exceptions. Please help us keep our community and environment safe and clean.
Questions? Contact us today.