Blue Line Transfer, Inc. is a full service public disposal and recycling facility. Our South San Francisco location is conveniently located one mile east of Highway 101.
Blue Line Transfer, Inc.
500 East Jamie Court
South San Francisco, CA 94080
650.589.4020
No appointment necessary. If you have questions, please contact us.
Our disposal rates are the most competitive in the area. We use certified weight scales to make sure you pay the fairest price. To learn more, choose one of the Quick Links below.
PLEASE NOTE:
FACE COVERINGS & SOCIAL DISTANCING ARE REQUIRED!
ALL LOADS MUST BE COVERED & SECURE.
OUR BUYBACK CENTER RE-OPENS ON JULY 1.

New operating hours are Monday-Friday from 7:00am – 2pm, and Saturday 8:00am – 12:00pm.

Limit of one trip per day. Payouts are in accordance with California Redemption Value (CRV). All payouts over $100 are made by mailed check.
OUR E-WASTE & BOPA (batteries, oil, paint, antifreeze, etc.) CENTERS RE-OPEN ON JULY 1. Operating hours are the same as for Blue Line Transfer.
CLEAN/DRY MATTRESSES, BOX SPRINGS, FUTONS, CARPET & CARPET PADDING 

ARE

ACCEPTED FOR RECYCLING. Check price sheet for applicable charges.

OUR CERTIFIED SCALE IS AVAILABLE FOR THE WEIGHING OF VEHICLES. Check price sheet for applicable charge.
Monday 6:00am – 4:30pm
Tuesday 6:00am – 4:30pm
Wednesday 6:00am – 4:30pm
Thursday 6:00am – 4:30pm
Friday 6:00am – 4:30pm
Saturday 8:00am – 4:30pm*
Sunday CLOSED
*Closed July 4
Click here to view all holiday hours.
For Contractors

&

Landscapers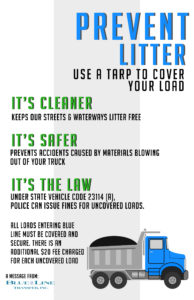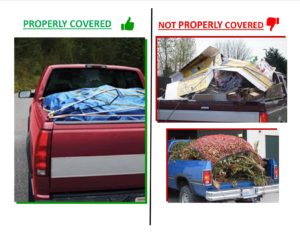 Effective July 1, 2015, all loads entering our facility must be properly covered (tarped and tied down). Any loads that arrive not properly covered will be subjected to a $20 additional fee. No exceptions. Please help us keep our community and environment safe and clean.
Effective April 1, 2018, only customers delivering loads of construction & demolition debris with at least 70% recyclable material will be provided with a recycling receipt. Load with less than 70% recyclables will be designated as trash.  Click here for more information.